Southern African Science Service Centre for Climate Change and Adaptive Land Management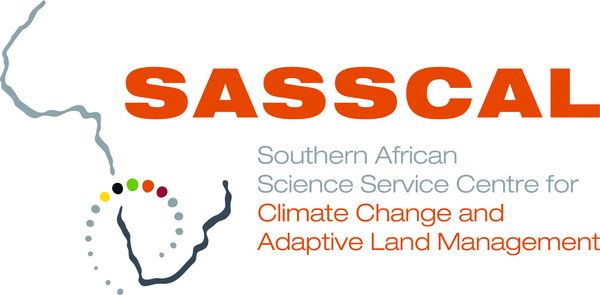 SASSCAL Regional Secretariat
28 Robert Mugabe Avenue,
P.O.Box 87292,
Eros, Windhoek,
Namibia
http://www.sasscal.org
Team:
Jane Olwoch, SASSCAL Executive Director
Jörg Helmschrot, Director of Science & Technology/ Capacity Development
Johannes Beck, Environmental Data Specialist
Michael Chamunorwa, Software Development Intern
Sylvia Thompson, GIS Specialist
The Southern African Science Centre for Climate Change and Adaptive Land Management (SASSCAL, www.sasscal.org) is a joint initiative of Angola, Botswana, Namibia, South Africa, Zambia, and Germany, responding to the challenges of global change in Southern Africa.
The overarching aim of SASSCAL is to improve the capacities to provide sound science-based solutions for current problems and future risks in the region, regarding climate change and the associated demands concerning land management practices of local players. As many of the global change challenges go beyond national boundaries, SASSCAL has a regional scope on the member countries and SADC. Its main objectives are: 1. trans-disciplinary, problem-oriented research in the area of adaptation to climate change and sustainable land management in order to improve the livelihoods of people in the region, 2. Services and advice for policy, decision makers and stakeholders and 3. Capacity Development including technical and human resources development at scientific and non-scientific partner institutions.
SASSCAL is currently supporting a Research Portfolio comprising of 88 projects supported by the German Ministry of Education and Research (BMBF) addressing these aims. Within the SASSCAL region and as part of the ongoing research activities, SASSCAL has established and facilitates a strong network among scientists, local, national and international stakeholders, practitioners at all levels of implementation as well as policy making authorities. A full list of collaborating partners in the current portfolio is given at the SASSCAL website (www.sasscal.org). In addition, collaboration has been initiated with further African research institutes (e.g. WASCAL, CSIR, SADC research centres and clusters), international GOs/NGOs (e.g. UNEP, UNDP, WFP, NEPAD, RAMSAR, WWF) as well as higher education institutions and initiatives (e.g. WATERNET, SARUA, TRAFFIC, UNESCO-IHE).
In 2014, the SASSCAL Open Access Data Centre / Knowledge Exchange (OADC/KE) was established as core unit responsible for data management as well as product/service deliveries. Since its start, OADC/KE is fostering its collaboration with local and national stakeholders, data providers and facilitators and together develops strategies for harmonizing data, information and knowledge, all in order to provide data products and services for policy advice, decision making and research. Previous developments are e.g. SASSCAL data portal (incl. the SASSCAL WeatherNet, SASSCAL IS, SASSCAL Photo Guide of Southern African Plants), GIS tools, thematic data base systems, thematic maps and other products.